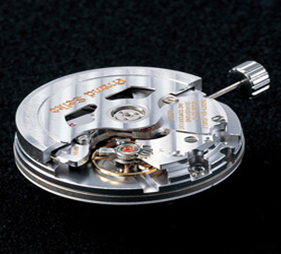 Mechanical watch movement.
The mechanical watch is powered by the unwinding force of the wound mainspring.
They can be used semi-permanently without the need for batteries or charging and have recently attracted attention, not only for their value as luxury items but also for their sustainability.
Morioka Seiko Instruments contributes to the realization of a sustainable society by reducing the environmental impacts from all aspects of the life cycle, from material procurement, to manufacturing. This is facilitated by including this planning during the design stage of manufacturing the mechanical watch movements.